One Direction's visit to the US has paid off - their album has topped the iTunes chart there.
The band launched their US album Up All Night with a live performance in New York City, where 15,000 fans turned up to watch.
The album has clearly sold well, but the official US chart position won't be known until this weekend.
It's expected to do better than their single What Makes You Beautiful which only reached 28 in the US chart.
Whilst the UK chart counts how many downloads or CD copies of a song have been sold, the US chart also includes how often a song is played on the radio.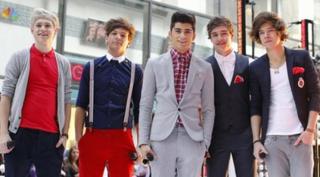 Reuters
This means that a lot of people are downloading One Direction's song, but it may not be getting played on the radio much.
Max from The Wanted doesn't seem too bothered by his rivals' success.
He told a newspaper: "Our song is number four in the charts. Maybe when they have a song right next to us in the charts over there, they'll be competition."
But One Direction could be about to have the last laugh.
If they hit the top spot, they'll be the first British group ever to have their debut album reach number one.
Nobody has managed that before, not Coldplay, The Spice Girls or even The Beatles!
One person who is sure the boys will top the charts is Katy Perry, who has already congratulated the boys.
She sent a tweet to Niall saying "Congratulations, you didn't let me down! xo."