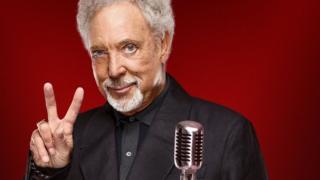 Four of the biggest names in music are looking for a new pop star, but there's a twist. Jessie J, will.i.am, Sir Tom Jones and Danny O'Donoghue won't be able to see the auditionees - candidates will be chosen purely on the quality of their voice.
Click on the coaches' names at the top of the page to find out more about them...
Who is he?
Sir Tom Jones is a singer and songwriter from Wales who has been in showbusiness for 48 years.
He was a heart throb in the 1960s - the Harry Styles of his day - and he's still entertaining millions with his music today.
Chart success
Sir Tom's music career started back in 1965 with the worldwide hit It's Not Unusual and he's topped the UK charts several times.
He even had a top 10 hit in 2006 with a dance track, showing he can still make brilliant music with a wide appeal.
He has sold over 100 million records and won a Brit Award for Outstanding Contribution to Music.
Could he coach a star?
Sir Tom knows a thing or two about music - he's mastered nearly every genre from pop to rock, R&B to dance.
He's also the most experienced of the coaches. With 48 years in the industry, he should have an advantage spotting the talent.
Sir Tom says...
"I'm excited about The Voice, and thrilled to be participating as a coach. This is a strong show; it's all about talent - but it's also exciting, competitive and compelling television."