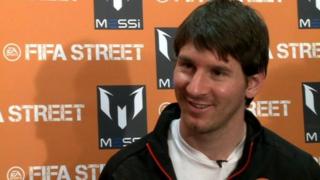 Messi reveals his Premier League idols
Barcelona star Lionel Messi picks out Sergio Aguero, Wayne Rooney and Robin Van Persie as the three Premier League stars he admires the most.
Speaking to CBBC's Match of the Day Kickabout, the Argentine says: "There are several quality players in the Premier League at the moment.
"Kun Aguero, who is my friend and I really like how he plays; Rooney [and] Van Persie who, at the moment, are playing really well.
"They are great players," he says.
Read more on Messi's interview here:
You can see the full interview with Lionel Messi on Match of the Day Kickabout on Saturday 17 March at 7.40am on the CBBC channel; and 11.40am on BBC Two. Find out what he does to relax away from football.