Barcelona star Lionel Messi has picked out Sergio Aguero, Wayne Rooney and Robin van Persie as the three Premier League stars he admires the most.
Speaking to CBBC's Match of the Day Kickabout, the Argentine genius said: "There are several quality players in the Premier League at the moment.
"Kun Aguero, who is my friend and I really like how he plays; Rooney [and] van Persie who, at the moment, are playing really well.
"They are great players," he says.
'Hates' comparisons
Messi goes on to say he hates being compared to other players and doesn't think he's similar to anyone else in the world.
"I think each player has his own playing style.
"Because we are all different, no one player is the same as another. Not me, or any other player - in any team you can think of."
The best he's played alongside?
Unsurprisingly, Messi found the question of who's the best player he's ever played with, difficult to answer.
"I have been lucky to always have really good team-mates. I was to lucky to play with Ronaldinho, with Deco, with Eto'o, and nowadays with Xavi, Iniesta, Cesc [Fabregas].
"It's very difficult to pick one. The truth is, all those players are spectacular and I was lucky to play with them, to experience that, to train with them, play with them - it was wonderful."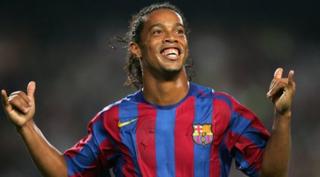 AFP
Changing his game
Messi says he's had to develop his game from youth level and become much more of a team player.
"[When I was 12] the truth is... I would get the ball and never pass it. But I'd try and make everyone to pass to me so I could score. I was a bit like that."
You can see the full interview with Lionel Messi on Match of the Day Kickabout on Saturday 17 March at 7.40am on the CBBC channel; and 11.40am on BBC Two. Find out what he does to relax away from football.