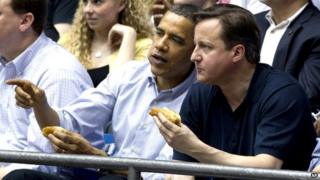 AP
US President Barack Obama and British Prime Minister David Cameron looked like best mates as they tucked into hot dogs at a university basketball game!
Mr Cameron arrived in America on Tuesday for an official three-day visit.
He said he found his first basketball game "fast and furious" and hard to follow at times, but Mr Obama gave him some tips.
The American president joked about our PM: "He's going to teach me cricket!"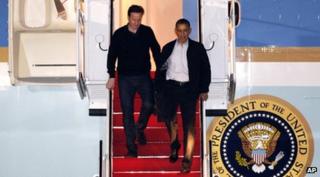 AP
But it's not all fun and games - the two leaders are having important talks about the situations in Syria and Afghanistan.
Mr Cameron has said he wants a peaceful transfer of power in Syria.
It's thought more than 8,000 people have died since anti-government protests started a year ago.
On Afghanistan, it's expected they'll agree that Afghan troops should take over earlier than planned - by the middle of next year.