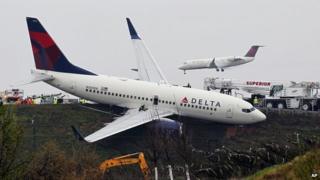 AP
It's very rare for a plane to crash, but this one managed to do it without even taking off!
Engineers were testing the engines of the Boeing 737 when the brakes failed and it rolled off the runway.
It happened at the world's busiest airport in Atlanta but luckily there were no passengers on board and the maintenance workers weren't injured either.
The plane has been sent for a full inspection, and will be having a lot more safety tests.