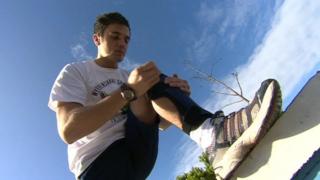 'Blade Runner' legs for sprinter
British Paralympic hopeful Ian Jones is hoping his new 'Blade Runner' style leg supports will help him beat his South African rival Oscar Pistorius.
Ian won bronze medals in the 200m and 400m at the Beijing Olympics in 2008 - but he's hoping to do even better at London 2012.
He suffers from muscular dystrophy, which leaves the muscles in his leg weak.
So doctors have just given him new hi-tech supports made from the same material that Paralympic champion Oscar 'Blade Runner' Pistorius uses.
Watch Ricky's report for more.