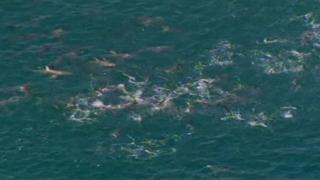 Shark feeding frenzy shuts beach
Here's proof that you don't want to get in the way of some hungry sharks!
A beach in Australia was closed for two hours after dozens of sharks were spotted on a feeding frenzy - just a few hundred metres from shore.
Black tip whalers, bronze whalers, spinner sharks were among those seen feasting on tuna fish.
This happens all the time in the wild, but it's unusual for it to occur so close to land.
The event was captured by a rescue helicopter.