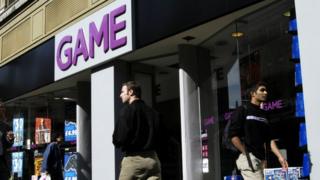 High street video game shop Game has admitted that some of its suppliers are refusing to do business with it.
It means Game has not been able to get hold of some of the latest releases like Mario Party 9 and Sims 3 Showtime.
They've been struggling to compete with supermarkets and online retailers who often sell games at lower prices.
Game said it was trying to resolve the matter "as quickly as possible" but the company is unsure if its efforts will be successful.
The company owns Game and Gamestation, and has 600 shops in the UK.
The shop is predicting a loss of over £18 million for the last year and some analysts say Game may not be able to pay its rent later this month.