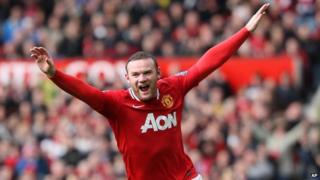 AP
Manchester United are at the top of the Premier League for the first time in five months, pushing a point clear of rivals Manchester City.
The lead came after United's 2-0 home win over West Brom and Man City's shock 1-0 defeat at Swansea.
United's victory was secured by two great goals from Wayne Rooney - who's now scored 26 this season.
Despite going top, Rooney said: "There are 10 games left, a lot can happen and we have to keep our form."
His manager Alex Ferguson says the team's championship-winning experience will count as they look to claim their 20th league title.
But Man City host United at the end of April and their boss Roberto Mancini believes that game will be the true decider.
He says he's confident that City can still win their first title in 44 years.