Action is needed right now to stop drought in West Africa turning into a disaster affecting 13 million people, Oxfam says.
One million children in the Sahel region are at risk of severe malnutrition.
In some parts of Chad people are so hungry they are digging up ant hills to gather grain that the ants have stored.
The agency says high food prices, extreme poverty and regional fighting are also to blame.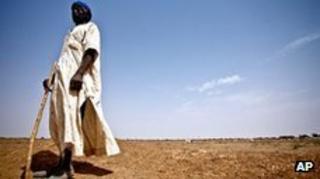 AP
A £23m emergency appeal has been launched to help more than a million of the most vulnerable people there.
Oxfam says aid agencies and governments were too slow responding to the famine in the East Africa that killed many thousands of people last year.