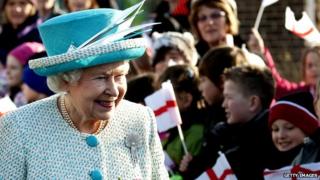 Getty Images
The Queen is giving Prince Harry a run for his money, kicking off her own Jubilee tour today.
Whilst Harry continues his tour of the Caribbean the Queen is keeping it strictly UK.
Today she's heading to Leicester where The Duchess of Cambridge, Kate Middleton, will join her for a fashion show.
Next stop is a service at the Cathedral and a presentation of a gift from the city.
Over the next five months she'll travel round England, Scotland, Wales and Northern Ireland with her husband, Prince Phillip.
The tour is a celebration of the Queen's 60 years on the throne as British Monarch.