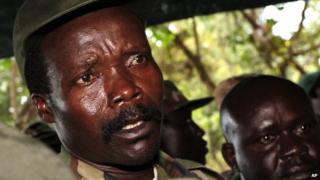 AP
A film by the organisation Invisible Children attacking Ugandan rebel leader Joseph Kony has gone viral online.
The documentary called Kony 2012 has been watched more than 30 million times in just two days, with support from celebs like Justin Bieber and Rihanna.
Kony is wanted by the International Criminal Court for acts of violence and for suspected use of child soldiers.
However the charity who made the video have been criticised over how they use money donated to them.
Some people have accused Invisible Children of not spending enough of their funds directly on the people they want to help.
The charity responded to their critics by explaining that their funds are divided equally between raising awareness, getting people involved and helping directly in affected areas.
Who is Joseph Kony?
Joseph Kony and his group the Lord's Resistance Army (LRA) have been operating in Uganda and three of its neighbouring countries for 20 years.
The LRA are accused of kidnapping and abusing children, forcing boys to fight in their armies.
Last year President Obama sent 100 special forces troops to try and catch the rebel leader but they haven't been able to find him.
The charity hope that by raising awareness of what has happened in Uganda, they'll be able to put pressure on the international community to catch Kony.
Many high-profile celebrities have lent their support to the campaign, like Lady Gaga and P Diddy.