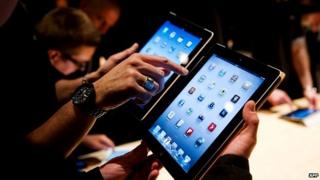 AFP
Apple has launched its latest tablet from the iPad range and the big news is it's got HD.
This new tablet follows the iPad 2, but it's not called the iPad 3 - it'll be known simply as the iPad.
A high definition screen means you can play HD videos and its camera records in HD, too.
Powered by a high speed A5X chip the new iPad can connect to faster 4G networks and can even act as a wi-fi hot spot for other devices.
But the 4G won't work in the UK for a while as there isn't a 4G network here yet.
It's a bit thicker than the iPad 2 to pack all the new stuff in, but there's been no big design change to the shape of the iPad.
There'd been loads of speculation online running up to the launch - and some people haven't been too impressed with what Apple came up with.
It's the first major launch of an Apple gadget since the death of the company's co-founder Steve Jobs in October, it is due to go on sale on 16 March in the UK.