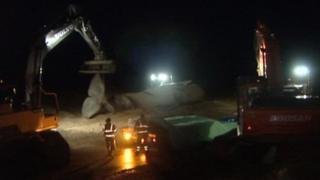 The huge sperm whale that washed up on a beach in Skegness in Lincolnshire has been taken away.
Council workers had been worried that they wouldn't be able to remove the whale for another week because of its size.
But on Tuesday night a team of workers managed to lift it onto a lorry so that it could be properly buried.
The 30-tonne whale, which had a big cut on its side, had already died before being washed ashore at the weekend.