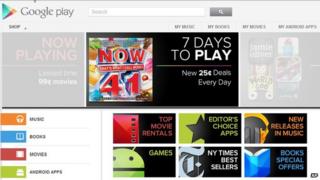 AP
Internet giant Google has relaunched its online store to try to take on Apple's iTunes.
Google's old Android Market online shop hasn't been as popular as they'd like.
So far it's thought that around 25 billion apps have been downloaded from Apple's store, nearly double the 13 billion that Google says have been downloaded from their store.
Google hopes that the Play store will tempt people away from Apple with its new sleek appearance.

AP
The new-look site will let smartphone users buy e-books, music and films all from one place - though the music service will remain available in the US only.
It'll also work across laptops and computers, as well as phones and tablets.
Some buyers had complained that the old Android Market, launched three years ago, was confusing as you had to visit different sites to buy music, films and e-books.
They're also worried that the old name put people off visiting the site if they didn't have an Android phone.
Android is now the world's most popular mobile software, used in Motorola, HTC and Samsung phones - but Apple still offers 100,000 more apps for their iOS users than those using the Android.