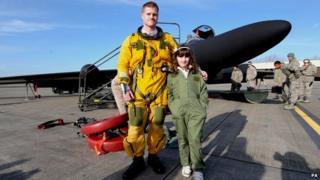 PA
A nine-year-old girl has "talked down" a US Air Force spy plane at an air base in Gloucestershire.
The U-2 spy plane flies so high the crew have to wear space suits that restrict their movement, so they can't get a good view of the runway.
And that's where Ellie Carter came in.
After writing to the Royal International Air Tattoo to ask if a U-2 plane could fly at the Fairford Air Show she was given the task of helping to guide the plane down safely.
Ellie followed the U-2 in a high-speed chase car while she and another pilot spoke to the plane's captain, telling him how close he was to the runway.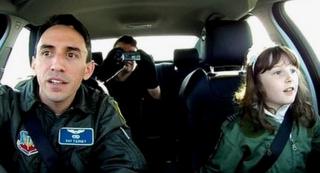 Afterwards she said: "Today was just amazing. When I grow up I really want to fly one of them."
Captain Raymond Tierney, who was in the car, said the US Air Force was "very impressed" with the knowledge Ellie had about the aircraft.