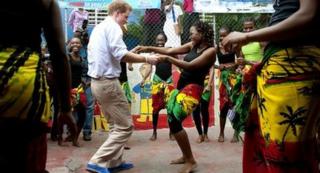 Prince Harry's reggae moves
Prince Harry bust out his best reggae moves at a youth centre in Kingston, Jamaica.
There was no holding back as he stepped out in his bright blue suede shoes and joined the dancers.
Harry was there on the latest stop of his Jubilee tour and didn't hold back with his hip-shaking.
Here's what the dancers made of him;
"He's not used to the style of reggae music dance, but I think he did well."
Later he gave a speech at an official dinner in Kingston.
He talked about the Queen, describing her as a "wonderful, caring grandmother" to whom he is utterly devoted.