Six British soldiers have been killed after their armoured vehicle was blown up in Afghanistan.
They were on patrol near Helmand province in the south of the country when their tank-like Warrior vehicle was hit by an explosion.
It's the worst single loss of UK life in Afghanistan since 14 were killed in an air crash in 2006.
Prime Minister David Cameron said it was a "desperately sad day for our country".
These deaths take the total British service personnel killed in Afghanistan to 404, since the war there began back in 2001.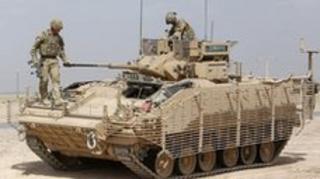 PA
It's believed the vehicle hit an old anti-tank mine, or perhaps an improvised explosive device (known as an IED - a home-made bomb).
The blast must have been very powerful to have blown up the Warrior, as they are heavily-armoured vehicles.
Most UK troops are set to leave Afghanistan in 2014.