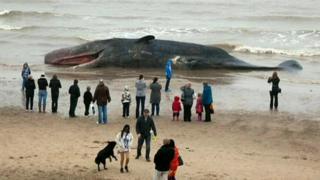 A huge sperm whale washed up dead on a beach in Skegness in Lincolnshire at the weekend.
The 10m long whale is now starting to smell really bad and because of its size council workers are having problems moving it.
They have covered the whale's body with sand to stop the smell and are trying to use a giant sling to remove it from the beach.
People aren't sure why the whale died but think that it may have hit a boat.