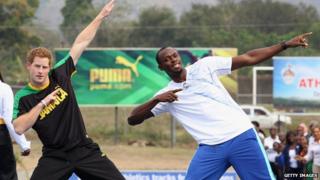 Getty Images
Prince Harry met and "raced" against Usain Bolt, the world's fastest sprinter, during his trip to Jamaica.
It's part of his royal tour in the Caribbean for his grandmother's Diamond Jubilee celebrations.
But the world record holder Bolt just jogged after the Queen's grandson - because Harry did a false start!
The world's fastest man joked that he wanted a rematch, but he also said that "it was an honour and a pleasure" to meet the Prince.
Harry is also meeting the country's Prime Minister, Portia Simpson Miller, during his visit.
The Jamaican PM has said that she wants her country to be fully independent of Britain, meaning the Queen would be replaced as the head of state there.