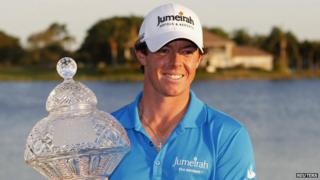 Reuters
Northern Ireland's Rory McIlroy has become the world's top-ranked golfer.
At 22, he's the second-youngest person ever to take the title, behind Tiger Woods who was 21 when he first took the top spot.
McIlroy secured his place at the top of the world's rankings after winning the Honda Classic competition in Florida at the weekend.
Former US Open winner Graeme McDowell said that: "I think he's the best player on the planet right now."
Rory's had a pretty amazing few months. Since August 2011 he's won three tournaments, finished second four times and been in the top five in four events.
Only once has he finished worse than fifth place: he came 11th at the Dubai World Championship after playing even though he was suffering from dengue fever.
He's hoping to stay at the top for a while, telling journalists: "As long as I keep playing good golf and have chances to win tournaments, then hopefully I'll stay up there."