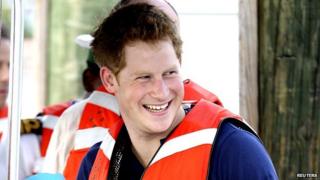 Reuters
Prince Harry had to swap boats during his Jubilee tour when the speed boat he was travelling on broke down.
Harry 'abandoned ship' and hopped on board a press and media boat following the tour.
He was off the Bahamas as part of his official tour of the Caribbean and was supposed to join the crew of a Royal Bahamian Defence Force patrol boat on a naval exercise.
He eventually landed on tiny Harbour island, where he met crowds of tourists and locals.
Prince Harry is due to arrive in Belize on 2 March, marking the Queen's Diamond Jubilee.