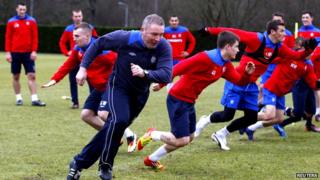 Reuters
Players at Rangers Football Club are expecting big cuts which means some of them could be sold.
Manager Ally McCoist has been told that as many as 11 players could lose their jobs.
In meetings at the club on Friday, several money-saving options are being looked at.
The club has major money trouble and was recently taken over by administrators - people who sort out companies that have run out of cash.
One option involves eight players leaving and other players having their wages cut by half.
Another idea would be all players getting just a quarter of their pay but no players leaving.
This doesn't yet mean an end to the club or to their matches.
But players, bosses and fans face a very uncertain future.