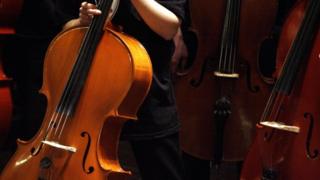 Are your music lessons hitting the right note?
School inspectors, Ofsted, reckon that almost a fifth of all music classes taught in English schools aren't good enough.
They think that too much focus is being put on writing about musicians during the lessons rather than actually making tunes.
In some classrooms, they found that not a single note was played or sung during the whole session.
We asked what you thought and loads of you let us know!
Your comments:
"I love my violin lessons. In my school music lessons, though, we hardly play any instruments."
Eleni, 10, Warwickshire, England
"Children at my age should be learning how to play an instrument as it is an advantage during adulthood. I play the violin, piano, tin whistle and trumpet."
Grace, 12, Ireland
"We sing, play instruments and compose our own tunes and songs all the time! We also do appraising but we never learn about musicians."
Marcus, Newport, Wales
"When we do our music lessons they are really fun because we write and play music."
Jennifer, 9, Berkshire, England
"In my school we focus on one song each week."
Lucy, 10, Edinburgh, England
"We very rarely play or sing music. At the moment, we're doing different composers."
Katie, 11, Worcestershire, England
"At school we play the recorder, and it has an orchestra. I play the cello, but I do it at a music school."
Catherine, 10, Kilkenny, Ireland
"Our school doesn't have a music room but we do music every Friday."
John, 10, Norfolk, England
"In my music lesson we go to two different rooms. We have a recording studio and a music practice room and we hardly write."
Deborah, 12, London, England
"My school has one music room but it's pretty big."
Jack, 9, Hertfordshire, England
"At my school we do a lot of singing but hardly ever play any instruments, even though we have TONNES of them."
Sarah, 10, Glasgow, Scotland
"At music lessons in our school we just sit there and spend most our time being told off for no reason. It is so boring."
Becca, 10, Cardiff, Wales
"For our music lessons we sometimes go on keyboards, but for four weeks in a row all we were doing was writing. It was boring."
Maisie, 12, Cambridgeshire, England
"We used to do lots of writing in our Music lessons but, now we play lots of different music on the keyboard and there is a keyboard between between two people."
Hannah, 13, Wiltshire, England
"My class never do music and I play three instruments guitar, trumpet and bag pipes."
Joe, 10, Blackburn, England
"In music lessons we only really play the keyboard. We learned guitar but only for two lessons then back to keyboards. However, we do have specialised music programmes for our computers."
Charlotte, 13, Essex, England
"My music lessons are usually about composing and playing. I have home music lessons and the teacher is amazing, so helpful."
Emily, 12, West Yorkshire, England
"Our school lets us play the piano or the keyboard but that's it, it's all boring."
Roxy, 12, London, England
"At our school we've been given 30 brass instruments and a brass teacher to teach us. It's all under a new programme in our county! The brass intruments are brand new and the teacher is really good!"
Emily, 11, Herfordshire, England
"We are a really musical school and do LOADS of singing and always make up our own music. We even learn the steel pans!"
Kitty, 11, England
"My school is amazing. We have loads of musical things to do and we have an amazing music teacher. We even have African drums!"
Olivia, 9, Sunderland, England
"Our music lessons are a waste of time. But luckily, I do a violin lesson every Friday with a professional violinist, and flute on Tuesday, with a professional flortist, they both come into my school."
Ibby, 10, Gloucestershire
"My school only does one music lesson a month."
Robert, 11, Bath, England
"My school does not let us sing - they make us do science instead. I hate it."
Mo, 11, Leicester, England
"When I did music, we always used to play instruments but mostly the keyboard."
Rebecca, 14, Birmingham, England
"In my music lessons, I play the clarinet but we have only ever wrote notes for one song."
Kai, 9, Chester, England
"We do barely any writing but the music we do play is ridiculous. We only go on battered old keyboards with missing keys. I really do not like my music lessons!"
Alex, 12, Nottinghamshire, England
"I think that my music lessons are boring, we mostly do writing and don't use enough instruments!"
Hannah, 12, London, England
"In our school we have three music rooms. They all have keyboards, a piano and guitars. We get to play the instruments and because we are doing Indian and Brazilian music at the moment, we get to play samba music on drums. It is really fun!"
Olivia, 12, Staffordshire, England
"We have only three rooms for music and they are really small. We are short on instruments."
Abdullah, 13, Birmingham, England
"Well in my school we play the recorder. We do play music out of books."
Bryanna, 9, Leicester, England
"When I had my keyboard lessons we just went over and over again on the same piece. In the end, I just quit and taught myself."
Ebony, 10, England
"My school has six band rooms, one recording studio, loads of free instruments to use, a classroom with a keyboard on every desk for learning how to play things and two classrooms with Apple Macs in to record and write music."
Mary, 12, London, England
"In my music lessons in the USA, we play a lot of music but we hardly do any writing!"
Georgia, 12, Ohio, USA