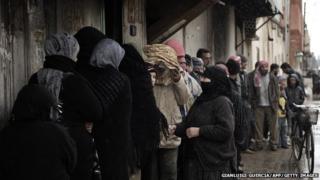 Other
The Red Cross says it has been refused permission to deliver aid in Syrian city of Homs, despite earlier getting the go-ahead from the authorities.
Relief workers had been preparing to get urgent food and medical supplies in on Friday.
The Red Cross were given permission by the Syrian government to take aid in and take out the wounded.
This was going to be in the Baba Amr area, which has been heavily bombed by government forces for almost a month.
The move comes as Russia and China have joined other countries in criticising the situation there.
People have been queuing for food and conditions have been worsening for the thousands of people who remain in Homs.
It's started snowing heavily in the city and many people have been surviving with little food and water and no fuel for heating.