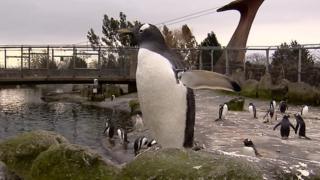 More than 100 penguins are to be evacuated from Edinburgh Zoo because their pool is leaking.
The birds will be moved from their enclosure to three zoos in Belfast, England and Denmark.
Some birds will stay to entertain visitors but they'll live with the sea ducks while their tank is repaired.
It's the ultimate march of the penguins but great care is being taken by the keepers so it doesn't ruffle too many feathers.
The work also means that the famous penguin parade will be cancelled for the next three months.