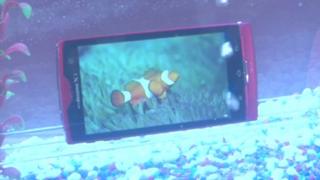 A waterproof phone has been revealed at an exhibition in Barcelona, Spain.
If you've ever dropped your phone in the bath, you'll know it usually means the end of it.
But a British company have developed a special waterproof coating to stop water damaging the parts of a phone if it gets wet.
The invention was revealed at the Mobile World Congress in Barcelona, Spain.
Hundreds of smartphones were on display and some were really out to impress.
What about the unbreakable phone that's actually designed to be dropped? Or an emergency phone that runs on a single battery and never needs charging?
Not all of these will end up being sold though.