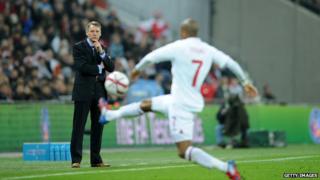 Getty Images
England were beaten by the Netherlands in Stuart Pearce's first match as caretaker manager.
Pearce took over the side after coach Fabio Capello resigned last month.
The 3-2 defeat at Wembley saw successful strikes from England's Gary Chill and Ashley Young.
But the International friendly ended with a late goal from Arjen Robben during injury time, his second of the match, to give the Netherlands a win.