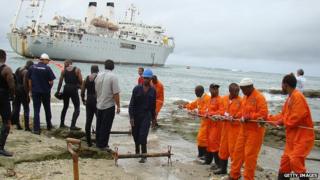 Getty Images
Thousands of people in East Africa have slow internet or none at all - all because of a ship's anchor.
It was dropped on the underwater fibre optic cables that have been supplying high speed internet since 2009.
The ship had stopped in the wrong place while it was waiting to enter Mombasa in Kenya, one of Africa's busiest ports.
Experts say it could take up to two weeks to get the service back to normal.
The cables are one of three sets running under the sea.
The introduction of high speed internet has made a huge impact on businesses in developing countries like Kenya.