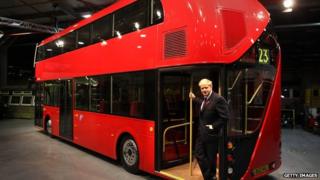 Getty Images
A new bus has hit the roads in London.
It's an updated version of the world-famous red Routemaster bus, which had an open platform at the back for people to hop-on and hop-off.
They've been designed to be better for the environment, using half the fuel of a normal bus.
But the buses are expensive - each one costs around £1.4m compared with the usual double-decker which costs about £190,000.
They'll only be seen on the 38 route at first but it's hoped more bus companies will buy them and the cost will come down.
The original Routemaster bus served on London roads for more than 50 years but in 2005 was taken out of normal service.