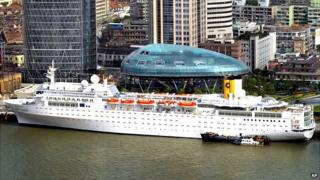 AP
A cruise ship from the same fleet as the Costa Concordia is being towed to safety after drifting without power in the middle of the Indian Ocean after a fire.
It broke out in the Costa Allegra's generator room but has not spread to any other part of the ship.
After sending out a distress signal on Monday, the ship is now being towed by a French fishing vessel.
It's heading to the nearby Desroches island in the Seychelles.
There are more than 1,000 people on board and officials say everyone is safe and well.
The Costa Allegra belongs to Costa Cruises. The company also own the Costa Concordia, which capsized off the Italian coast in January, killing 32 people.