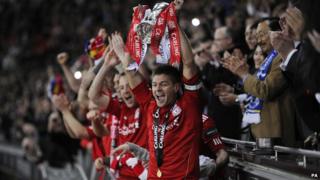 PA
Liverpool are celebrating after beating Cardiff in a dramatic penalty shoot-out during the Carling Cup final.
Following Cardiff's late equalising goal, it was a 2-2 draw after extra time.
Liverpool went on to win 3-2 on penalties with Steven Gerrard's cousin Anthony missing the goal for Cardiff City.
The win gives Liverpool their first trophy for six years.
Liverpool manager Kenny Dalglish says the Reds' win at Wembley will now inspire the team to bring even more trophies home to Anfield.