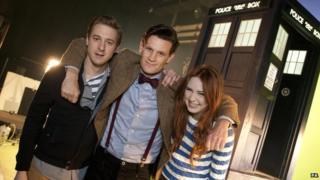 PA
Matt Smith and the Doctor Who gang are back at work again.
Filming for the much anticipated seventh series has started this week in Cardiff.
There's lots we still don't know about the new series but one thing that's guaranteed is that Amy and Rory will be leaving the programme.
Karen Gillian described Amy Pond's exit story line as "the best ever" but details remain a closely guarded secret.
The big question is who will replace them? Writers are certainly keeping quiet.
What we do know is that the next series will see the return of two "classic" Dr Who monsters. Could the Doctor be facing some old and forgotten enemies?
2013 is also a big year for Who fans as it's the programme's 50th anniversary.