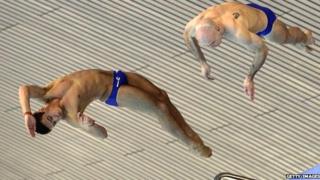 Getty Images
Olympic hopefuls Tom Daley and Pete Waterfield have come a rather low seventh place at the Diving World Cup.
They performed well in five out of six routines at the new London Aquatics Centre and were third going into the last round.
But they made a mistake when they attempted their newest dive - the '4.5 somersault'.
They were marked down and it meant they finished down in seventh place, and without a medal.
"The 4.5 somersault is one of our newest dives and it's either make or break," said Daley.
"Today wasn't our day", he added. "We have to go out and learn from our mistakes."