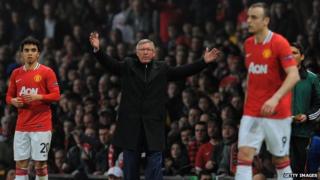 Getty Images
Manchester United have been beaten 2-1 at home by Ajax but they still go through to the next Europa League round, after winning 3-2 on aggregate.
The Reds had an uncomfortable night at Old Trafford - they first took the lead with a goal from Hernandez but Ajax then levelled the score.
And in the 87th minute, Ajax got past the United defence to make the final score 2-1.
Elsewhere, Stoke lost 1-0 to Valencia and dropped out of the competition.