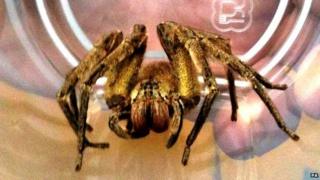 PA
A dangerous Columbian spider has been found in a bunch of bananas in a Scottish supermarket.
Petra Merriman, a shopworker in the Chesser branch of Asda, Edinburgh, spotted the venomous spider.
It was crawling out of a box where it had been curled around a banana.
She said, "All the boys were running round like headless chickens. They said 'I'm not going.' I said I would."
The spider's venom is not deadly but its bite would hurt a lot.
It was caught in a plastic jar and taken to Edinburgh Butterfly and Insect World but later died.