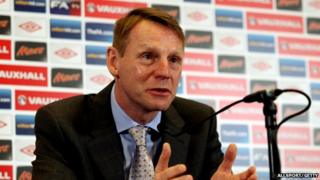 Other
Caretaker manager Stuart Pearce has named his England squad for next week's friendly against Holland.
As expected, the Under-21 coach has included a few surprise younger players in the squad.
Both Manchester United's Tom Cleverly and Sunderland striker Frazier Campbell are set to get their first international caps.
But there are no spots for veterans Rio Ferdinand or Frank Lampard.
John Terry is also missing from the line-up due to an injury.
The Liverpool captain Steven Gerrard is due to make his first appearance on the pitch for England since 2010.
It's expected that he will take on the captain's arm band in place of Terry who had the title taken away by the FA last month after he was accused of racial abuse.