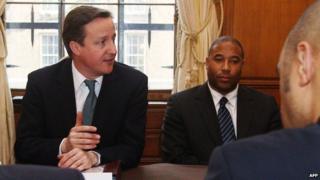 AFP
Football bosses have met the prime minister to try to crack down on racism in football.
The meeting was called because of fears that recent events on the pitch have damaged the game's image.
Earlier this month Liverpool player Luis Suarez had to apologise for refusing to shake hands with Man United's Patrice Evra before the match.
David Cameron said he was worried that children might copy the bad behaviour of the players on the pitch.
The prime minister also said that the UK should be proud of the "fantastic achievement" of the campaign to rid the sport of racism over the past two decades, but that more still has to be done.
One of the areas the government want to be looked at is the lack of black coaches, managers and referees in the game.
They've given the FA two months to come up with a new plan to improve things on and off the pitch.
The FA have said they are already looking into tougher punishments for any players and managers who are accused of racist behaviour.