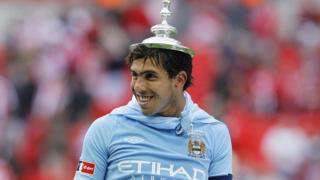 AP
Carlos Tevez has apologised to his club Manchester City after falling out with the manager last September.
The argument began when it appeared Tevez refused to come off the bench during a Champions League game against Bayern Munich.
The relationship between the striker and Roberto Mancini turned sour and Tevez went home to Argentina for three months without permission.
He's now returned to training and has apologised for letting everyone down.
In a statement, Tevez said, "I wish to apologise sincerely and unreservedly to everybody I have let down and to whom my actions have caused offence."
Tevez has also withdrawn his appeal against a fine of more than £1 million.
Roberto Mancini has named the player as part of his 25 man squad for the rest of the season.