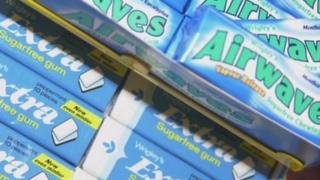 Police in the Midlands and West Yorkshire have come across a rather sticky situation.
Hundreds of pounds worth of chewing gum is being stolen from supermarkets around the regions.
Police believe that the gangs are sending the sticky stuff off to be used instead of money in Romania.
Gum and other small sweets are often used instead of small change in shops in the Eastern European country.
Ioana, a student from Romania studying in the UK, said: "Usually people use large notes to pay for items and shopkeepers, especially in small shops, don't have much small change and that is why they use gum or candy when they run out of it."
Earlier this year, two Romanians were charged with stealing over £800 worth of chewing gum from a store in Worcester.
Thefts have also been reported in Lincoln, London and Cambridge.