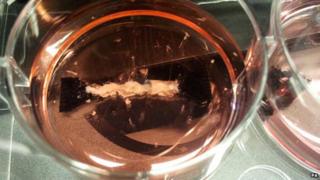 PA
If you fancy a fast-food treat you might think of some chips, maybe a hot dog but how about a lab-burger?
Scientists in Holland have been trying to grow meat that they hope could be used to create the world's first laboratory hamburger later this year.
Food scientists are trying to find a more environmentally friendly way to get meat than rearing animals.
Experts are worried that as the world's population grows, it will be harder to produce enough for everyone to eat.
The lab burger would solve that because the meat is grown from just a few animal cells, so animals don't need to be killed, or fed for years.
At the moment, the strips of muscle are only 2cm wide and will be mixed with blood and artificially grown fat to produce a hamburger by the autumn.
Burger brain
Dutch scientist Dr Mark Post is the brain behind the burger.
After first creating mouse meat in a test tube, he moved on to pork and is now trying his hand at artificial beef!
Experts think that the final cost of the burger will be around £200,000 - so if your taste buds are up for it, you'd better start saving soon!