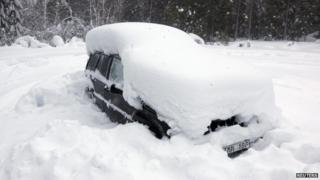 Reuters
A Swedish man has survived being trapped in his snow-covered car for two months.
Passers-by spotted the car half a mile from a main road, where snow hadn't been cleared.
The man was very weak when he was found, huddled in a sleeping bag on the back seat.
Police say he was stuck there since 19 December. It's thought he survived by drinking melted snow.
The rescued man is now recovering in hospital.