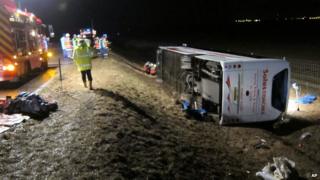 AP
Schoolchildren from Worcestershire have been injured in a coach crash in France and one of their teachers has died.
The crash happened in the early hours of Sunday morning when the school group were travelling home from a ski trip.
Ten people are still in hospital after the crash, which is being investigated by French police.
The driver is being questioned by police, and the coach is being examined for signs of anything unusual.
Most of the children on the trip are now safely back in their home town of Alvechurch but are facing up to the news that their teacher has died.
Experts called counsellors, who help people who've suffered a shock like this, are at the school to spend time with pupils.