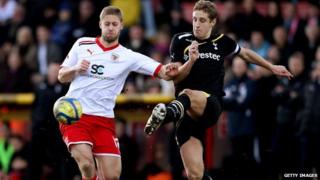 Getty Images
In the FA Cup 5th round Spurs were held to a surprise draw by Stevenage, while Sunderland smashed Arsenal out of the competition.
Liverpool punished Brighton with a 6-1 win at Anfield, giving them the chance of a cup double - FA Cup and Carling Cup - for the first time since 2006.
Stevenage had an exciting tie with Tottenham Hotspur, and everyone assumed Spurs would win. But the game finished 0-0, which means there'll now be a replay between the two sides at White Hart Lane.
On Saturday Birmingham held on to a 1-1 draw with Chelsea at Stamford Bridge, meaning they too will have a replay.
Leicester City finished Norwich City's hopes of cup glory with a 2-1 victory, while Stoke did the same to Blackpool 2-0.
In a north-south battle, Bolton beat Millwall 2-0.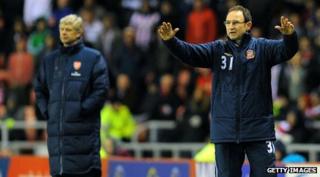 Getty Images
Arsenal's 2-0 defeat to Sunderland leaves the team with hardly any chance of lifting a trophy for the seventh season in a row.
Manager Arsene Wenger says it's the lowest point of his career at Arsenal so far.