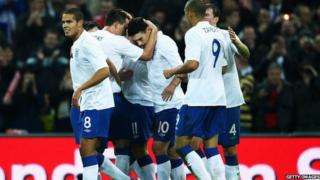 England kit ditched
England's football team have ditched their home kit after wearing it just eight times.
It's the lowest number of times they have ever used new shirts.
Anyone who wants to keep up with the latest design will have to buy the new kit which will be shown off at England's next match, a friendly against the Netherlands on 29 February.
That would mean spending more than £70 for a child's shirt, shorts and socks.
A lot of supporters are angry that they have to spend so much money so often if they want to stay up to date.
But the FA says that the money it makes from the sale of kit is put back into the sport. Umbro, who make the kit, says it's changed every eighteen months and the number of games played in that time varies.
The new kit will be worn during this summer's European Championship campaign in Poland and Ukraine.