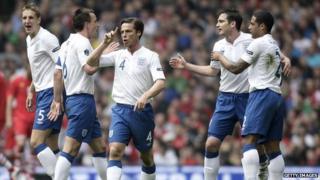 Getty Images
England's football team is changing its kit after wearing it just EIGHT times!
If you want to keep up with the latest design, it can cost more than £70 for a shirt, shorts and socks.
England changes its kit every 18 months, but many fans are angry they have to spend so much so often.
What do you think?
Do you own a kit for your club or country's team? Do you like to have the latest shirt or do you keep your old one?
Do you think teams change their kit too often or do you like seeing your side playing in new shirts?
Whatever your thoughts, let us know! And click back to see your comments soon.