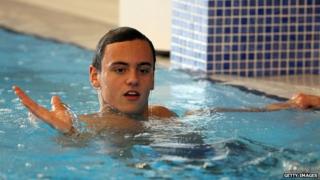 Getty Images
Tom Daley's still a teenager but he's rapidly become a household name, not just because of his diving skills but his numerous TV appearances too.
Team GB's diving coach says that Tom needs to cut back on his media work if he wants to beat his rivals.
Last year Tom lost his world title in the 10-metre individual platform event. He finished down in 5th place.
China's Qiu Bo won it and he's a hot favourite to take Olympic gold this year.
Tom's coach Alexei Evangulov says that Chinese athletes train three times harder, and Tom has to do a lot more to be the best.
Tom's hit back at his coach's comments. He says 90 percent of his life is diving, family and school, leaving just 10 percent on media work and seeing his friends.