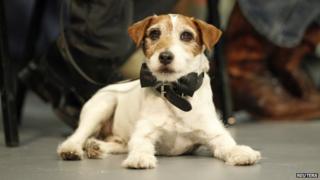 Reuters
Uggie the dog may be one of the most talked-about movie stars right now, but you won't be seeing him at the Oscars this month.
There had been reports that the canine would be doing a sketch in the film world's biggest awards ceremony on 26 February.
But the company in charge of his movie The Artist has said: "Uggie has not been asked to participate or appear at the Oscars."
The Artist is nominated for 10 Oscars.
The 10-year-old terrier was named best dog in a theatrical film at the Golden Collar awards on Monday.
He's now retired from making any more films.