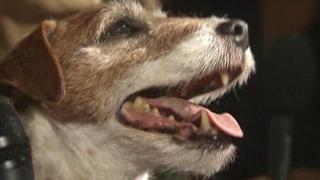 Uggie wins Golden Collar award!
There's a new award for dogs in films and no surprises who won it.... Uggie of course!
The star of The Artist was given the first annual Golden Collar award for his performance in the black and white silent film.
Uggie has already picked up Palm Dog Award at the 2011 Cannes Film Festival.
Uggie's trailer said: "I think it's very important because people don't realise how many hours we put into training these dogs into becoming movie stars."
The Artist is racking up lots of awards. It won seven Baftas and looks favourite to win big at the Oscars.